By Bruce Weber, Sept 5, 2015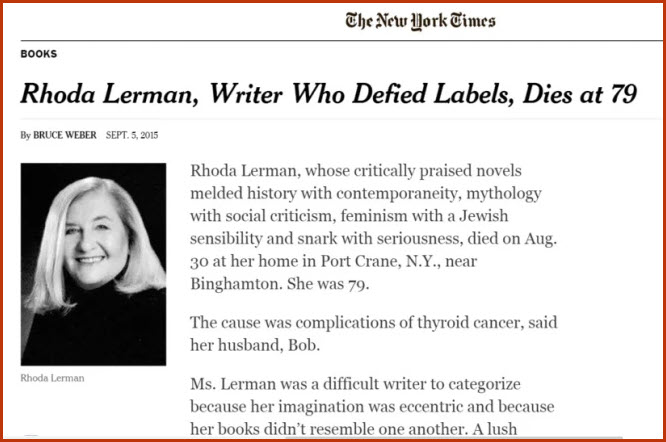 If you have a NYTimes subscription, you can read this directly on their website.
Text below for those who don't have access.
Rhoda Lerman, whose critically praised novels melded history with contemporaneity, mythology with social criticism, feminism with a Jewish sensibility and snark with seriousness, died on Aug. 30 at her home in Port Crane, N.Y., near Binghamton. She was 79.
The cause was complications of thyroid cancer, said her husband, Bob.
Ms. Lerman was a difficult writer to categorize because her imagination was eccentric and because her books didn't resemble one another. A lush stylist with a vivid, sarcastic wit and a taste for ribaldry, she was sometimes compared to Philip Roth for her wicked depictions of the battle of the sexes, albeit from the distaff side.
Her first novel, "Call Me Ishtar" (1973), a lampoon of the values of a suburban patriarchal culture, reincarnates the Near Eastern deity of the title, a goddess of love, war and fertility, as a housewife in upstate New York. Her second, "The Girl That He Marries" (1976), was a fierce, if more straightforward, satire about a romance between a young Jewish man, an aspiring politician — a caricature immensely satisfying, as one reviewer wrote, "for those of us who've been waiting around for Alexander Portnoy to get his" — and the young Gentile woman who sets her cap for him.
But in other books, she veered from social satire to pursue other interests. In "Eleanor" (1979), she imagined what it was like to be Eleanor Roosevelt. In "The Book of the Night" (1984), she created a dizzying fantastical allegory set in the 10th and 20th centuries with a narrator that is sometimes female, sometimes male and sometimes a cow. And "God's Ear" (1989), is a serious comedy about faith, money and fathers and sons, concerning an Orthodox Jew, a successful insurance man in the Far Rockaway neighborhood of New York City, and his journey — literal, spiritual, fantastical — to a remote town in Colorado.
"Hers is a unique voice — wildly funny, achingly spiritual, profoundly Jewish and feminist at the same time," the novelist Brett Singer wrote about Ms. Lerman in a review of "God's Ear" in The New York Times Book Review.
Rhoda Carol Sniderman was born in Far Rockaway, Queens, on Jan. 18, 1936. Her father, Jacob Sniderman, was an accountant who died when Rhoda and her twin sister were 13. Her mother, the former Gertrude Langfur, moved with her daughters to Florida, where she remarried and operated a small novelty store in the Miami area.
Rhoda graduated from the University of Miami, where she met Mr. Lerman, a fellow student. They married in 1957, moving to Alaska for two years while he was in the Navy. She taught school there in Kodiak. She later taught creative writing at several colleges and universities, including the University of Colorado and Syracuse.
In addition to her husband, she is survived by her sister, Judy Amster; two daughters, Jill Nazimek and Julia Lerman; a son, Matthew, and two grandsons.
Ms. Lerman adapted her novel about Eleanor Roosevelt into a one-woman stage play that toured with the actress Jean Stapleton beginning in the late 1990s and has more recently been a vehicle for Loretta Swit.
A breeder of Newfoundlands, Ms. Lerman wrote a nonfiction book that explored the relationship between humans and dogs, "Elsa Was Born a Dog, I Was Born A Human …Things Have Changed" (2013). She'd begun exploring the consciousness of animals in an inventively plotted 1994 novel, "Animal Acts," about a bored housewife who leaves her husband and ends up on a road trip with a gorilla named Max — "an immensely appealing character," Publishers Weekly said.
A version of this article appears in print on Sept. 6, 2015, Section A, Page 28 of the New York edition with the headline: Rhoda Lerman, 79, Novelist Who Defied Categorization. Order Reprints | Today's Paper | Subscribe