Outrageous and outrageously funny, The Girl That He Marries is the story of Stephanie―nearly thirty and still single, a bright and attractive young woman with an unerring instinct for unmarriageable men and a nagging fear she's going to grow old alone. Enter Richard: urbane, ambitious, and eminently marriageable. The adored son of an adoring mother, Richard has been adroitly manipulating people all his life. He's especially adroit at the game of love.
Before she knows it, Stephanie is hooked on Richard. But before Richard knows it, Stephanie has figured out the rules―and very soon is beating him at his own artful game. In the process, she twists herself into the girl he would marry―and becomes a very different woman. The trouble is, as Stephanie finds out too late, when you play the mating game, you risk getting stuck with the prize.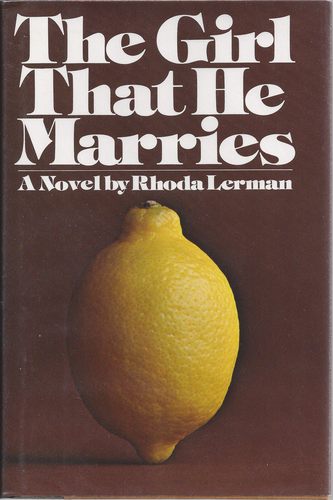 A perfectly nice female person succumbs to the atavistic urge to transform herself into the All-Time Classic Wife. With Rhoda Lerman's outrageous talent this becomes the feminist Jekyll-and-Hyde of our time—and we recognize the monster in ourselves while we're laughing. –Gloria Steinem
Devastating. For every woman or man who has married (or is in danger of marrying) in order to shore up an inadequate self.
–Betty Friedan
A devastating satire of the games people play in courtship and supposed love. While it is a superb parody, it also holds enough of the truth to make you want to cry.
–Lucy Freeman
Enroll me in the Rhoda Lerman cult. Chain her to a desk and keep her writing.
–Susan Brownmiller
The most Machiavellian princesses among us are forced to wince with recognition…Splendidly stylish.
—The New York Times Book Review
Read the full review

Men, if they had the courage, ought to read this novel and meet their match…Despite its bleak view of our mating habits, this novel is antically funny…Like her characters, Lerman's language plays games. (She) is funny because she hears us so right…Spinning us on a swift whirligig through the sexual nastiness of our culture, she set us down laughing. — Erica Abeel, The Village Voice
It must be read.
—Ms.
With unrelenting manic ferocity, this savage, sexist, hilarious romance a la Kafka demonstrates the truth of H. L. Mencken's assertions that "to be in love is merely to be in a state of perceptual anesthesis."…Never has an ordinary man been rendered with such glee. For those of us who've been waiting around for Alexander Portnoy to get his, the author Rhoda Lerman…proves that writing well is the best revenge…
—Alix Nelson, The New York Times Book Review
Read the full review
A wickedly funny comedy of erotic manners.
—The Atlantic Monthly
The dialogue is ribald…The encounter situations come every page. Very much for the same market that loved Fear of Flying…tackles virtually every aspect of the sexual encounter scene and proves that getting what you think you want isn't always the answer.
–Barbara Bannon, Publishers Weekly
Lerman is bound to bring back memories, some of them ones you'd hope were well forgotten…If no one in your circle is circulating The Girl That He Marries, it's worth buying it and starting it on its well-deserved rounds.
—Houston Chronicle
A great talent. This book should be a primer for all romantic young ladies.
— Jean Stapleton (Mrs. Archie Bunker)
Great…Wonderful.
–Karen DeCrow, President NOW
Finishes in a blaze.
—Worcester Telegram
In the tradition of Jong, Parent, and Drexler.
— The (A.L.A) Booklist
Rhoda Lerman has the meanest mouth in creation. And one of the funniest. Surely no honest woman could finish The Girl That He Marries without rooting out and discarding at least one or two long-in-the-tooth closet fantasies. For the sake of my continuing mental health, I need a Lerman novel a year.
–Judy Sullivan, author of Mama Doesn't Live Here Anymore.