We still have lots of autographed copies of Rhoda's books.
The Order Form is below the books listing.
by Rhoda Lerman
$28.95
In Rhoda Lerman's newest book about her dogs, we get to know Elsa, a very large, black and white Newfoundland, as she struggles to be human, to speak, to act, and to think as we do. Because of her profound and intense relationship with her humans, Elsa has become a person-dog, happily living her life on the interface between human and dog. Lerman, who is always trying to understand her dogs and join their universe, has struggled to become a dog-person. Elsa and Lerman understand each other.
"I love what Ms. Lerman says about dogs [in Elsa Was Born A Dog]! Her deep love of dogs come through and she asks all the profound questions that we dog people are always asking: just who are these animals/people?
– Jeffrey Moussaieff Masson author of When Elephants Weep; The Emotional Life of Animals and Dogs Never Lie about Love
---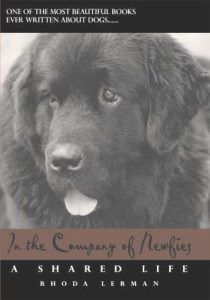 In the Company of Newfies
(Currently out of print. Keep in touch and we will let you know when we have more copies!)
by Rhoda Lerman
$27.95
"Extraordinary…exceptional…unusually lyrical writing, observations beautifully expressed…(a) truly unique voice. Now the best news: In the Company of Newfies is, indeed, being republished. A true collector's item."
– George Berger, Publisher, AKC Gazette
"In The Hidden Life of Dogs Elizabeth Marshall Thomas asked what dogs want. Rhoda Lerman has come up with a different answer. I love both books because the authors have so much in common."
– Jeffrey Mousaleff Masson author of When Elephants Weep; The Emotional Life of Animals , Los Angeles Times
"This is a book that you can read and share with your dogs. You can share it with your husband too, although he may not be as much fun."
– Rita Mae Brown author of Rubyfruit Jungle
"Tender and elegantly written account of a relationship between humans and animals. Lerman has captured that sweet relationship with her gift for words."
– Alix Madrigal, San Francisco Sunday Examiner and Chronicle
---
by Rhoda Lerman
$19.95
"…The novel has informed all of my dramatic renderings of Mrs. Roosevelt…"
— Jean Stapleton"
A reality truer and more haunting than the most scrupulous notes of the biographer — distinguished historical fiction."
–Harper's
"Probably hews closer to the truth than any factual account published. A portrait that burns itself into the reader's mind."
— New York Times Book Review, Los Angeles Times Book Review, Washington Post Book World, John Barkham Reviews
---
---
Media Mail Shipping: $4 for first copy, $1 for additional copies in same package.
1) Fill out the order form below.
2) Print the form so you can mail it with your check. You will also get a copy of the email that is sent to us.
3) Click "Send". This will send the order to us so we can set aside a book (or books) for you.
4) Mail the form (or email you receive) to us with a check payable to Robert Lerman.
5) Mail it to:
Julie Lerman
1155 Moody Road
Huntington, VT 05462
Thank you.